Dominus Napa Valley Red 1998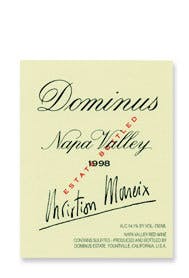 1998 was an "el Niño" vintage, resulting in a cool climate throughout the Napa Valley. Thanks to their French experience, Christian Moueix and his team knew immediately how to react: work even harder in the vineyard. By rigorously crop thinning, when the warmer weather of September arrived, the vines could concentrate the flavors in the few clusters remaining and allow the fruit to ripe.
Wine SpectatorEarthy, elegant and refined Cabernet blend, delivering layers of currant, tar, black cherry, cedar, coffee and anise, all sharply focused and framed by just the right amount of tannin. Drink now through 2009.
International Wine CellarSaturated red. Aromas of cherry, raspberry, smoked meat, roasted tomato, earth and tobacco leaf; deeper and more complex than the Napanook bottling. A step up in complexity, vibrancy and precision of flavor. Silky and fairly deep, with slightly truffley chocolate and tobacco flavors. Finishes with big suave tannins and a hint of licorice. This offers rather powerful material for the year but nonetheless seems a bit dry next to the '99. 90 pts. $100. 05/01.
Wine AdvocateThe 1998 Dominus's dark ruby/plum color is accompanied by aromas of licorice, earth, plums, black fruits, and underbrush. While this medium-bodied 1998 possesses good depth, a spicy, open-knit complexity, and ripe tannin, it does not have the size, depth, or dimension of the previous eight vintages. Nevertheless, it is an elegant, Bordeaux-styled red for drinking over the next decade.