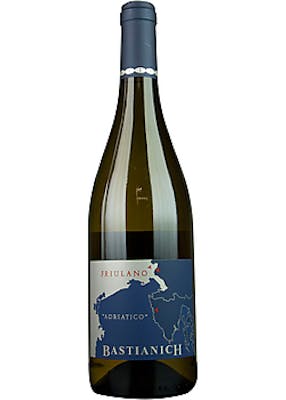 SKU: 28873
Bastianich Adriantico Friulano
---
---
From the bottle:
"Adriatico is a unique collaboration spanning borders of three nations, uniting a common passion for 3 indigenous varieties that find their maximum expression at the northern tip of the Adriatic Sea.
This Friulano, from Italy's Colli Orientali Del Friuli DOC, shows ripe peach and mineral with an uncommonly lush mouthfeel and a fresh finish with hints of almond.
13.0% Alcohol"
Friulano (free-oh-LAH-no) is the most widely planted grape in Friuli where it has been grown since the 1600s. Friulano is the local name for Sauvignon Vert and today it is found almost exclusively in the Friuli-Venezia Giulia region of Italy. (It used to be present in Chile where it was mistaken for Sauvignon Blanc, but once they realized their error those plantings declined.) In any case, it's a surprise to me that this grape isn't grown in more areas because it produces a very delicious, easy to drink white wine.