Aberfeldy Single Highland Malt Scotch Whisky 21 year old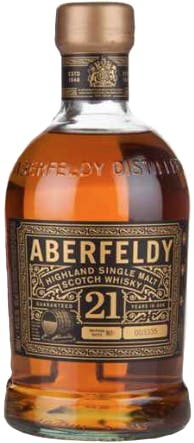 Richly textured, honeyed nose with sweet creamy intensity. Dried fruits, floral heather notes, and hints of toasted coconut.
Wine EnthusiastInitial sniffings detect tart, yeasty aromas of barley malt and bread dough. Palate entry is off-dry and a touch bittersweet in caramel; at midpalate, the taste profile tends to the toasted cereal and toasted bread side of the scale. Finishes gracefully, dry, tart, crisp and clean.