Kopke Tawny Port 20 year old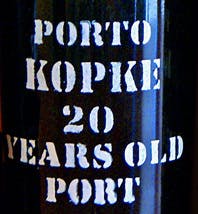 Elegant, rich and nutty with flavors that go on forever. A creamy smooth blend of 15 to 35 year old tawnies showing deep caramel and dried fig flavor and well-developed color.
Wine EnthusiastAlthough part of Barros, Kopke still operates relatively independently, and obviously can draw on good stocks of aged tawnys. This wine certainly tastes all of 20 years, with its richness and dryness finely in balance, and with lemon jelly and intense ripe fruits shining through.
Wine SpectatorVery interesting aromas of maple syrup, honey, and mahogany. Full-bodied, very rich with a decadent butterscotch and nutty aftertaste. Very typical.