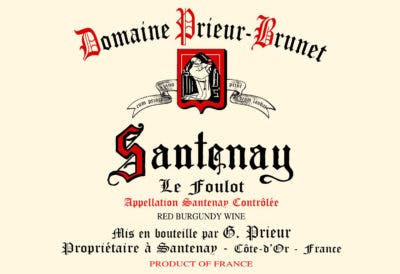 SKU: 32485
Domaine Prieur Brunet Santenay Maladiere 2018
---
---
Location: This 1.47 hectare plot is situated at the southern end of the Côte de Beaune, and overlooks the picturesque farmhouses of the estate
Grape Varietal: 100% Pinot Noir
The Vines: Single Guyot pruning is performed (short pruning), double de-budding, trellised vines, and green harvest when necessary.
The Soil: The vineyards of the Côte de Beaune are planted along a narrow strip of land less than 3 miles (5km) wide, with the most favored sites being on the limestone slopes that form the backbone of the region. The mineral-rich soils and sunny exposure here make for excellent terroir.
Vinification: The Pinot Noir grape has dark skins but produces white juice. A cold maceration is performed on the harvested grapes in order to infuse the juice with the color of the skins. Fermentation takes place in open oat vats, and a traditional pigeage is performed (the cap is punched) as well as a daily pumping over. The length of time that the maceration will last is determined based on analysis of the young wine and frequent tastings.
Aging: The wine is aged in oak barrels from Allier and Troncet. Blending is performed prior to bottling. If necessary, the wine is fined using fresh, white eggshells which clarifies the wine naturally. Without any other filtration, the wine is finally bottled with care, allowing time for the cork to decompress and take final form as slowly as possible.

Tasting Notes: This is a rustic ruby red wine, with aromas of strawberry, earth, and wildflowers. Vibrant and juicy on the palate. Excellent cellaring potential.

Ripe, red-cherry notes combine seamlessly with subtle oak toast on the nose of this wine, while an overtone of Morello hovers. That Morello gets full rein on the juicy, bright palate, where its purity becomes apparent. Fine-boned tannins lend structure and are a little drying. The fresh finish is mouthwatering, appetizing and balanced.
Exhibiting attractive aromas of cherries, raspberries, spices and orange rind, the 2018 Santenay 1er Cru Maladière (Domaine Prieur-Brunet) is medium to full-bodied, layered and complete, with succulent acids and a deep core of fruit. Frédéric Barnier notes that this parcel is planted with quite high-quality vine material.
The 2018 Santenay La Maladière 1er Cru feels a little too ripe on the nose compared to the Clos des Gatsulards, lacking some of its delineation. The palate is better, with supple tannins, dark berry fruit mixed with cola and brown spices and a harmonious if uncomplicated finish. Fine.

Are you 21 years old, or older?