Woodford Reserve Double Oaked Kentucky Straight Bourbon Whiskey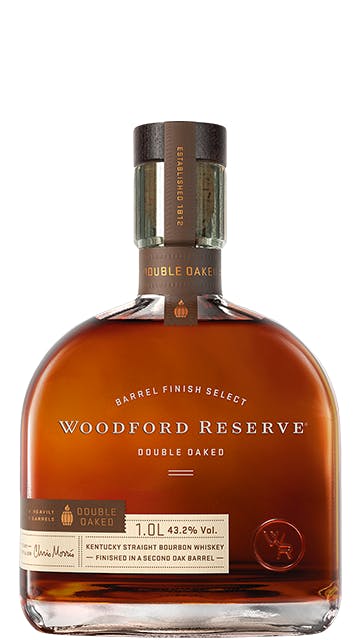 An innovative approach to twice-barreled bourbon creates the rich and colorful flavor of Woodford Reserve Double Oaked. Uniquely matured in separate, charred oak barrels - the second barrel deeply toasted before a light charring - extracts additional soft, sweet oak character. Rich notes of dark fruit, caramel, sharp honey, chocolate, marzipan and toasted oak. A full-bodied mix of vanilla, dark caramel, hazelnut, apple, fruit and spices. Long and creamy with lingering hints of honeyed apple.
Wine EnthusiastAfter the usual aging time, this Bourbon is then moved to a heavily-toasted, lightly-charred barrel to extract additional oak flavor. The end result is deep amber in the glass, with bright spice cake and baked apple fragrance. On the palate, it's lightly sweet at first, showing creamy caramel, but finishes dry, with touches of espresso, oak and Baker's chocolate. Overall, a bold, flavorful sipper.