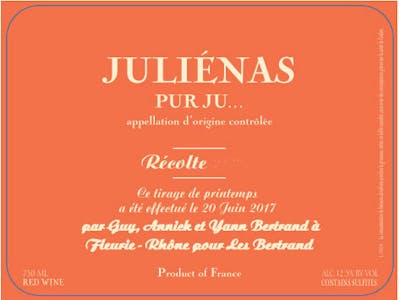 SKU: 38357
Yann Bertrand Julienas 2019
---
---
From 60 year old vines, grown on "En Rizière" (The Rice paddy). Organic farming, hand harvested. From Beaujolais' northernmost Cru, this is made with 60+ year old grapes grown on roche, the local term for the white, crumbly soil composed of fossilized granite, schist and other oxidized minerals. It's aged in a combination of very old barrels and demi-muids.
Yann Bertrand learned his trade from the likes of Jean Foillard, Yvon Metras and of course the granddaddy of them all Jules Chauvet. With Foillard and Metras as his mentors, Yann turned his family's grape-growing business (converted to organic in the '90s by his parents) into an estate with a cult following. Only indigenous yeast is used, no pesticides or insecticides are used, and nearly all cuvées are produced without any added SO2.
Yann endeavors to show off the beauty of Gamay, and the unique terroir of each individual parcel, and sees no reason to manipulate or add anything to his cuvées. The wines are undeniably alive, vibrant and fresh; they exude buvabilité, the French word for "drinkability" that really means something more like "these wines will compel you to continue drinking them."

Are you 21 years old, or older?