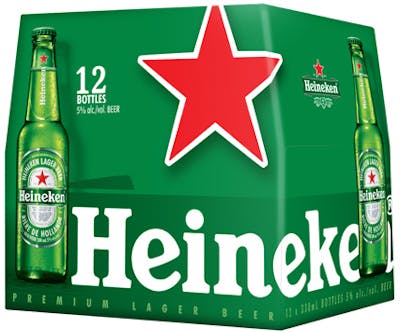 SKU: 4577
Heineken Lager
---
---
Born in Amsterdam and raised by the world, Heineken Lager is brewed according to the original of-ingredient recipe that first earned its international reputation as a premium beer in 1886. Consisting of just water, barley, hope and yeast, Heineken Lager is a pure European pilsner. Bright golden in color and malty, yet mildly bitter in taste, it was designed by its namesake, Gerard Adriaan Heineken, to be the consulate "Gentleman's Beer" in his Dutch homeland. In pursuit of his commitment to quality, Gerard established the very firsts in-brewery laboratory, where he and Dr. H. Elion perfected the beer's unique flavor by isolating the "A-yeast" strain that would become its signature ingredient.
Also known as Heineken Pilsener Made with 3 ingredients, and they're all natural: Barley, Hops and water. Yeast is an important part of the brewing process, but it's not an ingredient! Our natural A-Yeast produces a fruity flavor that is key in making the Heineken you know and love, and is filtered out after fermentation.

Are you 21 years old, or older?