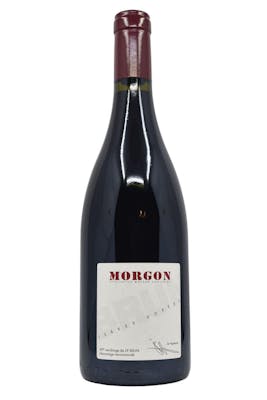 SKU: 37306
Domaine des Terres Dorees Morgon 2018
---
---
Jean-Paul Brun, who founded his Domaine des Terres Dorées in 1979, is one of the greats of Beaujolais. Eric Asimov of the NY TImes agrees, saying he is "a fan of just about anything Jean-Paul Brun produces, from his cru Beaujolais to his straightforward Beaujolais L'Ancien Vieilles Vignes and Beaujolais Blanc to [his] lovely rosé".
What sets Jean-Paul apart? For one thing, he is a natural winemaker who staunchly refuses the label. Fine, we'll take him at his word. And yet, it's hard to find a more natural winemaker out there. He farms organically or sustainably, preserving and championing old vines. He ferments with natural yeasts, minimizing interventions. He may not be in the Natural Wine club, but that's because he was Natural Wine before Natural Wine was a thing.
He also stands out in Beaujolais for not using "carbonic maceration" fermentation (in which fermentation starts inside uncrushed berries), preferring a more "Burgundian" fermentation in which destemmed berries are crushed, allowing the juice to begin fermenting in the tank, and the wine to extract more "stuff" from the grape skins, including tannin and other polyphenols.
The result is immediately pleasurable wines with all the Beaujolais freshness you could dream of, but also with enough stuffing to age a few years in the cellar.
Where does the name, "Terres Dorées" ("Golden Earth" or "Golden Land") come from? The terroir, of course! The soils in the warmer, southern part of Beaujolais Brun calls home, are full of a rare iron-rich limestone.
From vines in Bellevue, the 2018 Morgon wafts from the glass with aromas of red plums, mulberries, smoked meat and spices. On the palate, it's medium to full-bodied, fleshy and enveloping, with a rich, layered core of fruit, powdery tannins and lively acids. This comes warmly recommended.

Are you 21 years old, or older?