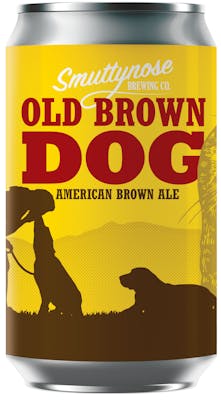 SKU: 23205
Smuttynose Old Brown Dog Ale
---
---
Curled up with a good book or cutting through whitecaps in your trusty canoe, there is simply nothing better than the companionship of a loyal, loving dog. We know from experience - our dogs come with us wherever we go (including to work at the brewery every day). Taking this bond to heart, we first brewed our award-winning American Brown Ale, Old Brown Dog. Years later, it remains a stalwart example of the style, beloved across New England for its distinct and refreshing flavor. When the occasion calls for something big on flavor but without the hop punch, Old Brown Dog is an unbeatable choice. Reliable and robust, playful and adventurous, it's the beer we reach for no matter where we're headed - just like our trusty pup.
Part of smutty's year-round lineup, this pours a gorgeous mahogany color, with a thick tan head that falls quickly. It's a harmonious and well-balanced brew, as initial scents of sweet malt, canned brown bread, toasted raisin bread, brown sugar and molasses abound on the nose and carry through to the smooth, medium-weight mouth. Hints of cola spice, toasted pecan and dark cherry dance on the creamy palate. Medium carbonation helps to keep the mouthfeel from feeling too cloyingly sweet, while a pleasant bittersweet cocoa and black tea astringency unfolds on the finish.
Old Brown Dog has been cited as a classic example of the "American Brown Ale" style of beer. Compared to a typical English Brown Ale, Old Brown Dog is fuller-bodied and more strongly hopped.

Are you 21 years old, or older?