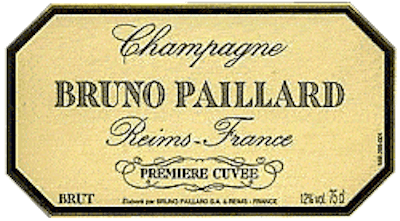 SKU: 38288
Bruno Paillard Brut Première Cuvée
---
---
A straw gold colour and very fine bubbles. Its delicate hue comes from to the use of a high percentage of Chardonnay and of the first pressing only. The fine bubbles are due to a very noble raw material, a perfectly controlled temperature in the cellar "" cool and steady "" and to very long ageing in bottle. The first aromas reveal the citrus character of the Chardonnay : lime, grapefruits. Then red fruit aromas come out: redcurrant, raspberry, morello cherry "" typical Pinot Noir. On leaving the wine to open up, candied fruits, even exotic fruits of Pinot Meunier appear with aromas of banana and pineapple. The palate is lively, thanks to the low dosage respecting the wines authenticity. The nose is confirmed by the first taste, citrus, almonds, toasted bread and "brioche"… but also redcurrant jelly, then dark fruits - cherry, fig or blackberry. On being aerated and warmer, the wine reveals the light taste of plum and pear. The palate is full, quite long, with a very clean finish. Elegance "" but not without complexity "" this wine perfectly illustrates what I call "the house style".
The NV Brut Premiere Cuvee is exceptionally polished and refined from the very first taste. Lemon, grapefruit, green pears and flowers are some of the many notes that are woven together in this classy, totally polished wine. The two-plus years of bottle age post-disgorgement are a great example of how first-class NV Champagnes can develop beautifully in bottle, something I have seen time and again with Bruno Paillard's wines. Hints of hazelnut, almond, crushed rocks and pastry add elements of complexity, yet the wine retains its classic sense of energy and vibrancy. This is a great showing. The Brut Premiere Cuvee is 45% Pinot Noir, 33% Chardonnay and 22% Pinot Meunier. Disgorgement date: September 2010. Anticipated maturity: 2012-2017.

Are you 21 years old, or older?